Rediscover

Hidden In Plain Sight

---
Your dream kitchen is hiding behind the doors of your current cabinets!
View More Projects
Granger, Indiana

Smooth as Silk

---
---
Oh how I wish you could just feel this finish through the internet!  Think it looks smooth and rich?  Imagine that ... times ten! This Granger family live with their 1980's standard contractor kitchen for as long as they could, then called Doors and Drawers to bring them into the 21st century.  And this clean and finished look will easily carry them for decades...all for about HALF the cost of custom kitchen cabinets!
---
Start Your Project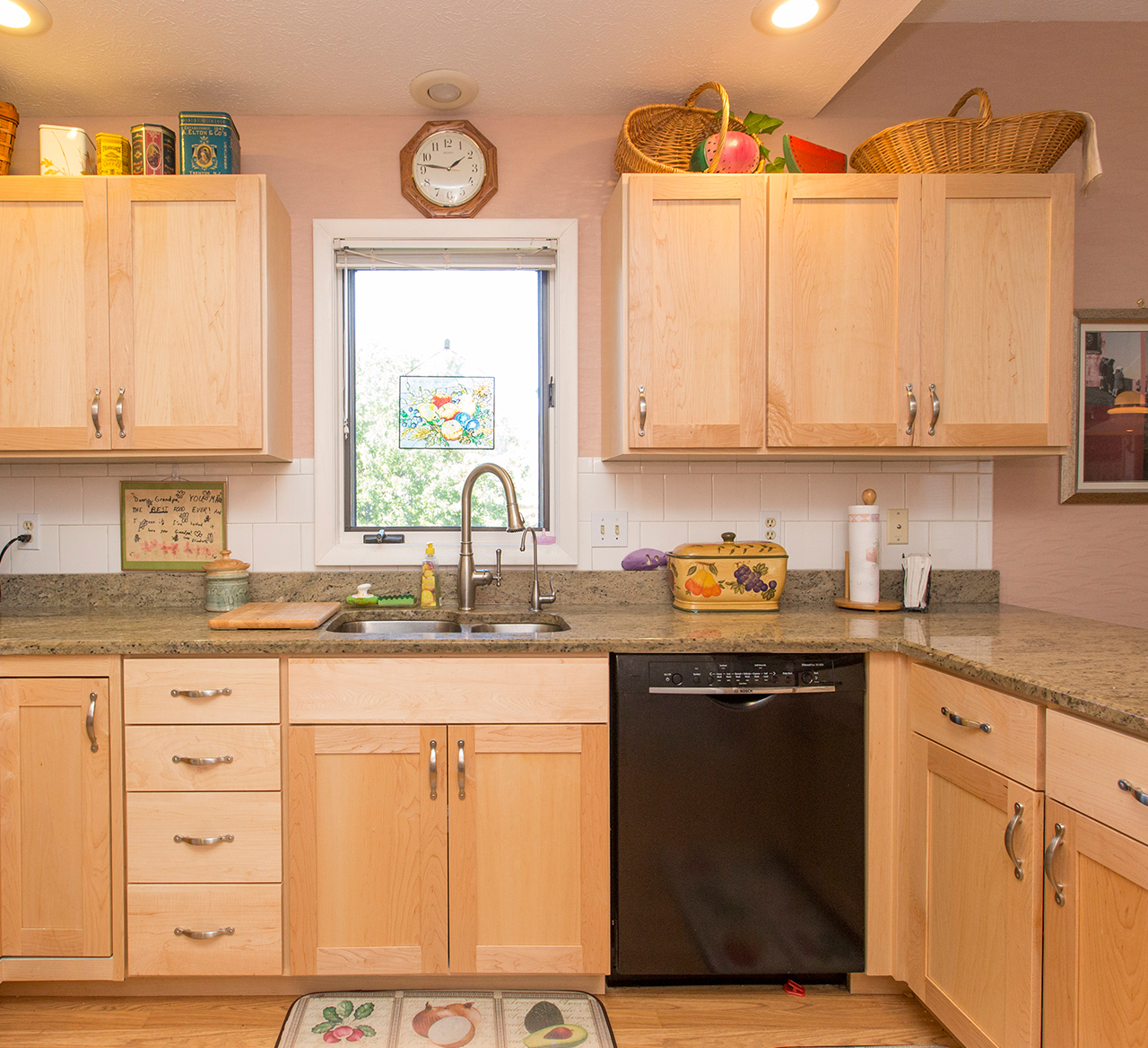 Buchanan, Michigan

DIY ~ Lesson Learned

---
---
This Michigan homeowner was crafty and first thought she could take on her kitchen remodel herself, so she started stripping the doors....only to find out she'd bitten off more than she could chew. So she called a contractor, who wanted an exorbitant amount to refinish her kitchen. At the recommendation of several friends, she gave Doors and Drawers a call. And they made her dream kitchen come true...for less than HALF of what the contractor wanted to charge!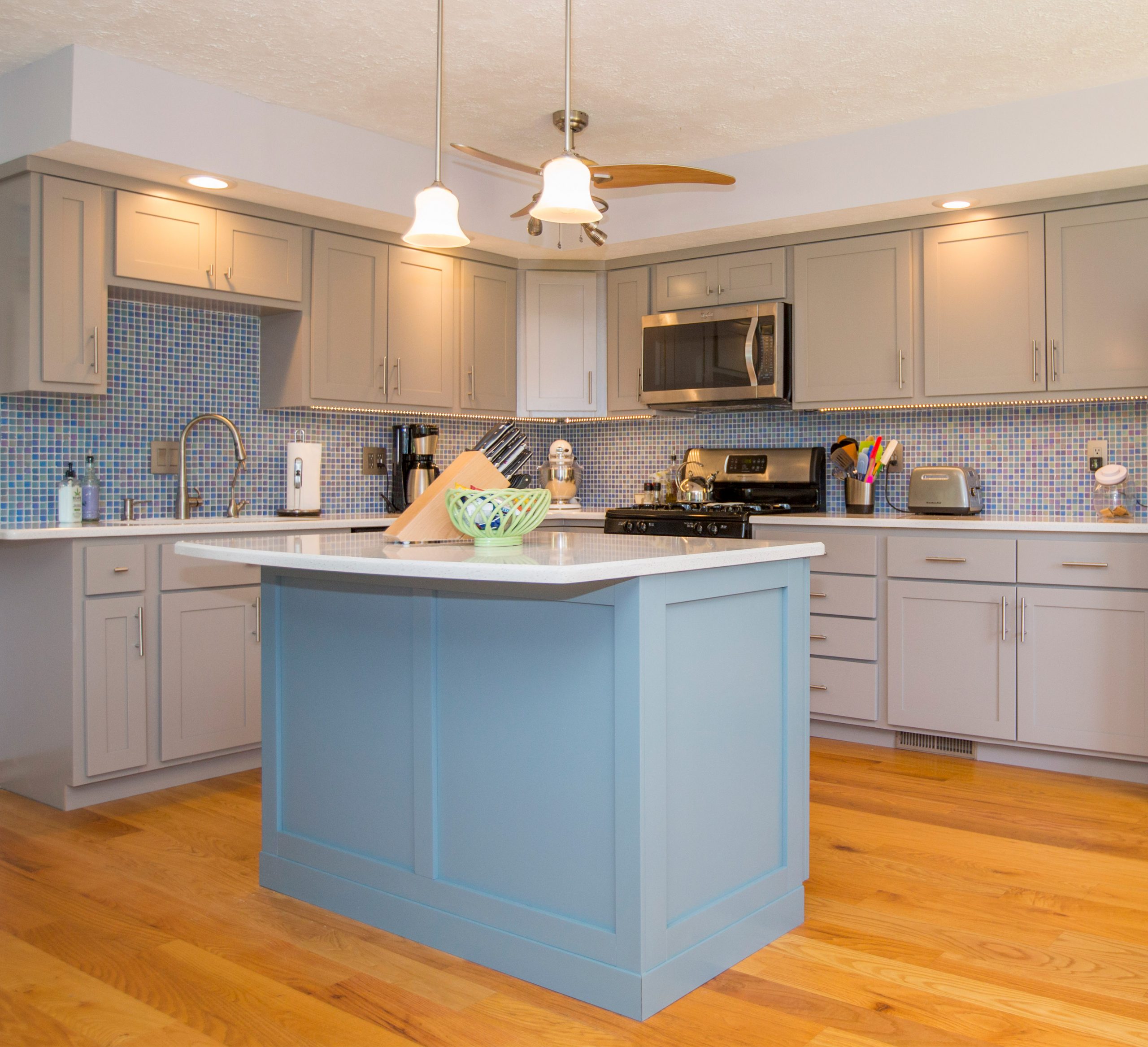 "I'm handy ~ of course I could do this myself!
(Boy! was I wrong!)"
The big challenge in the original kitchen was the blockade created by the solid row of cabinets separating the kitchen from the family room. The solution? A storage-packed kitchen island, with large pots and pans drawers and a roll-out trash compartment....and she's thrilled with the soft-close doors, the pretty tiles and her lovely Quartz countertop.
Start Your Project
Lakeville, IN

Fresh & Functional

---
---
Useful storage was a real issue in this kitchen. So they hired Doors and Drawers to not only reface all their cabinets, but they also added a pantry with two big roll-out drawers. Integrating the microwave above the stove was not only handy, it freed up more counter space on their new granite countertops.
---
Start Your Project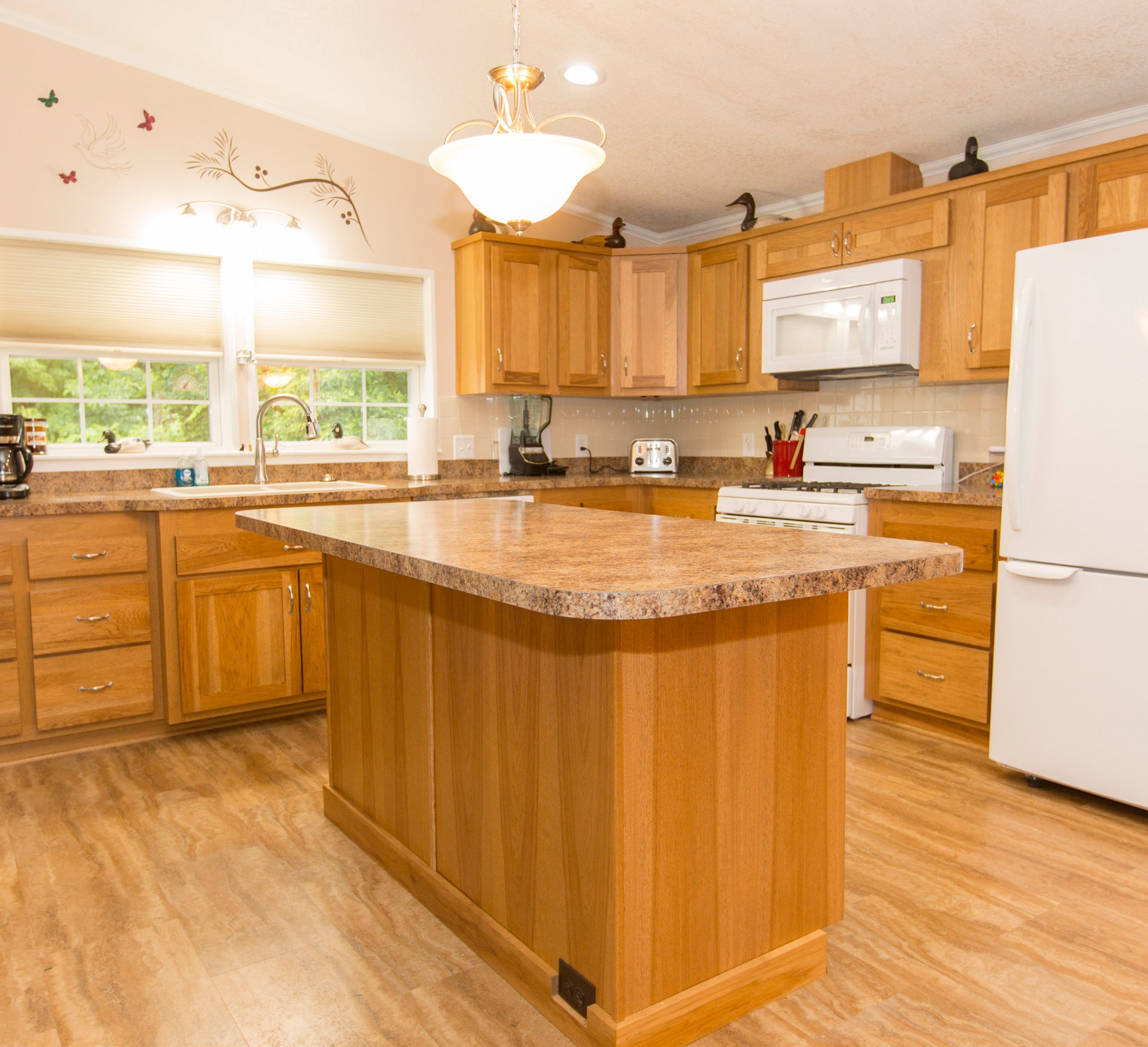 Elkhart, Indiana

Dramatically Different

---
---
This family wanted something totally different from their boring and basic 1970's all wood kitchen, but they didn't have an endless budget. So we refaced all of their cabinets in an antique on maple finish, then topped it with Dolce Vita formica counters ~ don't they look like granite? ~ to draw out the beauty of their new grey floors.
---
Start Your Project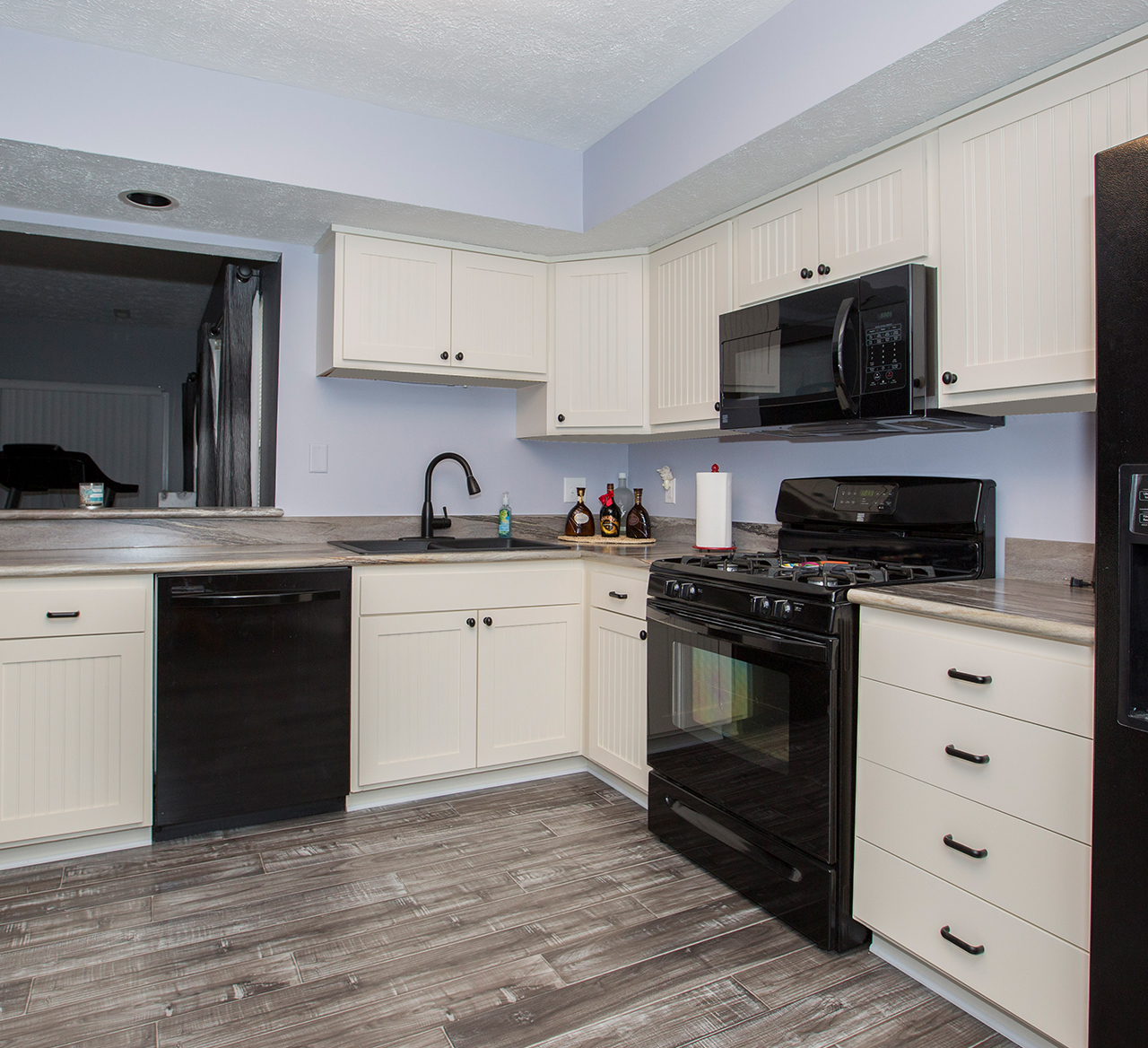 South Bend, Indiana

New Life for 90's kitchen

---
---
These homeowners were tired of their dark and dreary kitchen and wanted to modify their upper cabinets to accommodate cove molding, as well as to add a new wine cabinet and microwave cabinet. A new White Ornamental granite countertop was the icing on the cake!.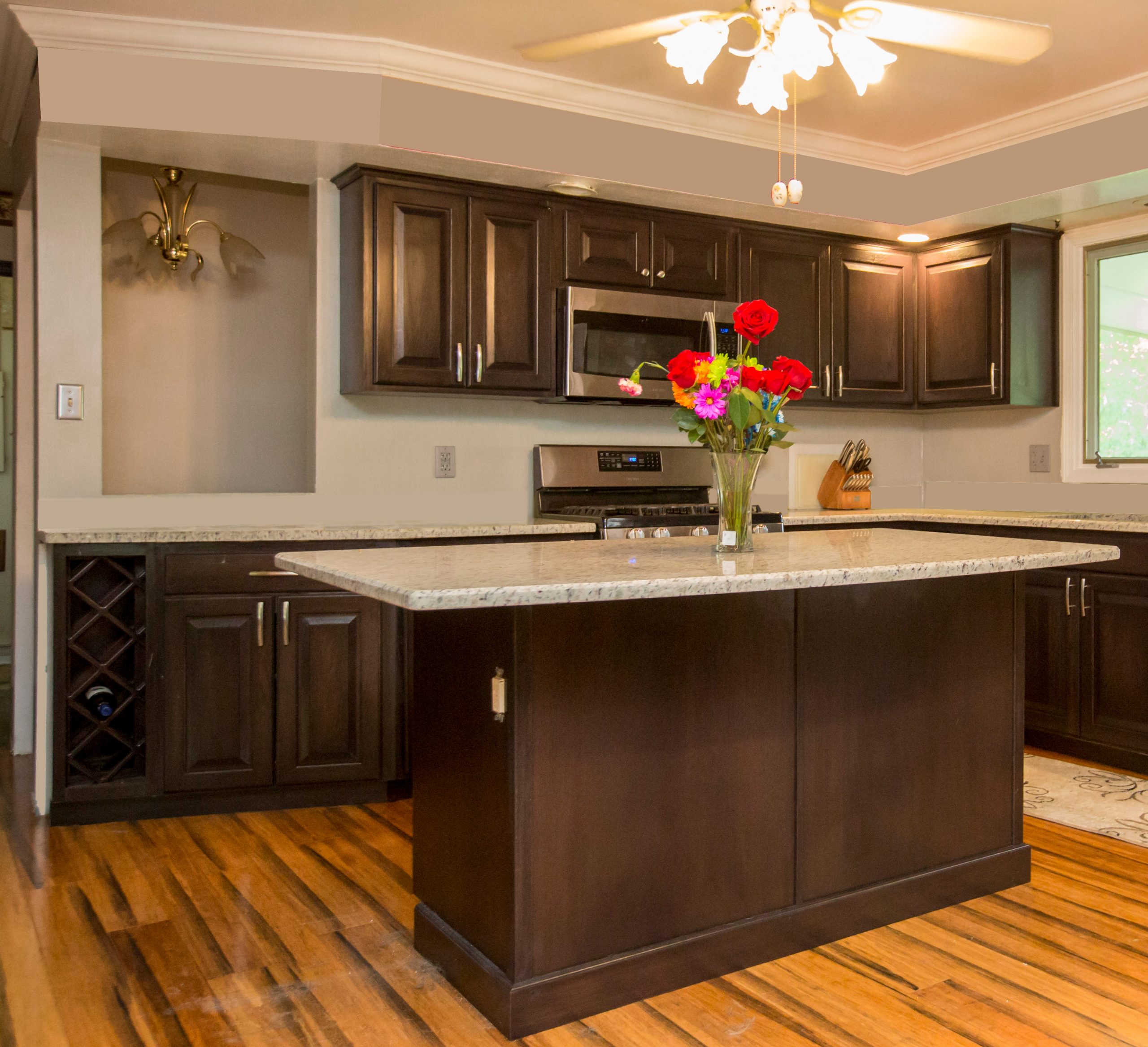 "Make it pretty. Make it work. And make it easy for me!"
Do you have dreams for your kitchen? Want it to do more? We can help! One call to Doors and Drawers starts your journey to your dream kitchen. What are you waiting for?
Start Your Project